Hello, My Name Is Billy
A New Musical About Drugs & Sex

written by Tim Aumiller and Scott Schneider
directed by Tim Aumiller

"A Rocking New Musical" - Backstage
Saturday, August 13th at 5:45 pm
Tuesday, August 16th at 9:15 pm
Thursday, August 18th at 5:45 pm
Saturday, August 20th at 2:00 pm
Wednesday, August 24th at 9:15 pm
Venue: Le Poisson Rouge
Featuring: Casey McClellan, Aaron Kliner, Robert Maril, Scott Schneider and Dayna Dantzler
Executive Producer: Dana Viltz
Set & Lighting Design: Jonathan Spencer
Costume Design: Brian Hemesath
Production Stage Manager: Dawn Fenton*
Assistant Director/Creative Marketing: Katie Naka
Marketing Director/Associate Producer: Tom Kingsley
Casting: John Ort
Music Consultant: Cory Davis
Graphic Design: Robert Hébert

*Member of Actors' Equity Association. Equity-Approved Showcase.

HELLO, MY NAME IS BILLY is the story of one man's enduring romance with drugs –a filthy, unapologetic musical joyride through an all-American landscape littered with crack pipes, booty bumps and hot bodies. A sardonic look at one gay man's pursuit of the ultimate high, Billy reminds us that "Life's rife with addiction!" HELLO, MY NAME IS BILLY is revealed through a series of 12-step meetings, beginning with Billy's introduction to man-flesh and crack at the age of 18 by his lingerie-loving older co-worker. After high school, at Kansas State University, Billy takes to pot, coke and acid, thanks to his best girlfriend – the strapping, exotic Athena. When his Dad falls ill, Billy is forced to interrupt his college career to travel home to Kansas to care for his father. It is here, back in his old home, that he discovers yet another high-flying drug – Oxycontin. Along with the attentions of a hot guy in the neighborhood, Billy's addiction to pills helps him through the long, sad days as his father wastes away. Billy's journey ultimately brings him to New York City, a wonderland of hot men and hotter drugs, where he runs through the pharmacological alphabet: E, Special K, GHB, and the "tart we call Roxy." Before long, Billy settles on his drug of choice – Meth – with terrifying, exhilarating and damaging consequences.
HELLO, MY NAME IS BILLY Medley
From Pulling the Plug, Live at Joe's Pub, June 14, 2013
HELLO, MY NAME IS BILLY
Live at Le Poisson Rouge, August 24, 2011
PRESS LINKS:
"There's no other addict in the West Village with whom we'd rather be spending the evening." – Backstage
FringeNYC2011 Overall Excellence Award
Photo Shoot for HELLO, MY NAME IS BILLY
Rehearsals for HELLO, MY NAME IS BILLY
Production Photos for HELLO, MY NAME IS BILLY
Marketing Materials for HELLO, MY NAME IS BILLY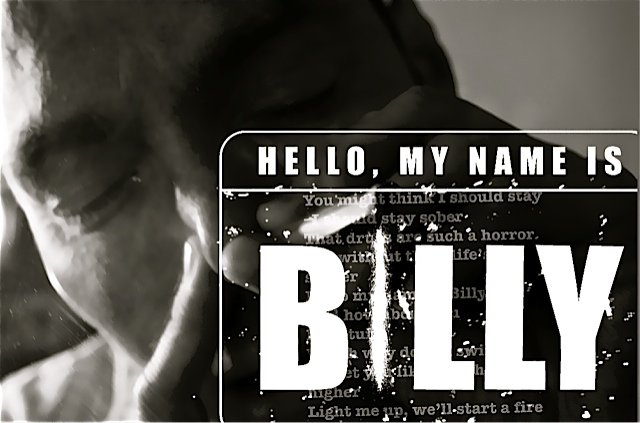 The Duplex Premiere of HELLO, MY NAME IS BILLY – Spring 2010